Best Dumpster Rental Brandon MS Has to Offer
For the best dumpster rental Brandon MS residents and contractors can depend on, choose Delta Waste Solutions! Over the years, we've built a steadfast reputation for exceeding expectations and offering cost-effective services to support home and business owners with their waste disposal needs. We're the downright dependable choice for all of your garbage and debris removal projects on a short or long-term basis. Browse our website to learn more about our 5-star reviewed services and book your dumpster rental today!

We're proud to serve Brandon, Mississippi, and the surrounding areas of Rankin County by providing top-notch customer service, high-quality containers, and hassle-free booking options for every project type. We understand how frustrating it can be to create a convenient and cost-effective solution for removing bulky materials and waste from residential or commercial job sites, which is why we offer a range of sizes and flexible delivery to help take the stress off your plate when you have bigger fish to fry than worrying about multiple trips to the landfill or keeping your development site waste-free. We guarantee that the added support of the best dumpster rental Brandon MS has to offer will make your life and job easier.

Clear out the garage, redesign your landscaping, get started on a fun DIY home renovation project, or manage the ever-growing waste in a warehouse setting with our options for a dumpster rental Brandon MS trusts for all of their disposal needs. Get in touch with our experienced and helpful team by giving us a call at (601) 272-8060 or book your rental using our online system anytime anywhere!
We Take Just About Everything
Some examples of the junk we haul away include:
Garbage Removal

Trash Removal
Construction Waste Removal

Yard Waste Removal
Furniture Removal

E-Waste Disposal
Choose the Dumpster Rental Brandon Mississippi Homeowners and Contractors Use for All Projects
We're the #1 choice for a dumpster rental Brandon Mississippi contractors, homeowners, and business owners use to complete a variety of projects in a timely and convenient manner. Home renovations, heavy-duty demolitions, and commercial landscaping projects are difficult enough in their own regard, so let our team handle the heavy-lifting of managing the waste disposal so you can focus on the task at hand.

Whether you're preparing to flip a rental property or clearing out a home in anticipation of an estate sale, we're confident we have the best-suited selection to help you meet your objectives. We partner with Mt. Helm Landfill to ensure all waste is disposed of responsibly in accordance with city, county, and state regulations. When you work with our team, you can rest assured you're working with a company that's committed to ethical and sustainable waste removal practices for the benefit of our community. Rent a dumpster Brandon MS locals trust from the leading dumpster rental company in Rankin County.

Learn more about our prices and policies by browsing our website or work directly with one of our friendly staff members to get started on your residential or commercial project by giving us a call at (601) 272-8060. We're eager to prove to you why we're the top choice for a reliable and affordable dumpster rental Brandon Mississippi depends on to meet the needs of a range of projects.
Durable Roll Off Dumpster Rental Brandon MS Contractors Depend On
Book the construction roll off dumpster rental Brandon MS contractors utilize for a range of development and demolition projects. We regularly partner with local construction companies to keep their work sites clean and free of bulky debris that can be potentially harmful if not disposed of in a timely and efficient manner. Whether you're in the early stages of planning a future development or need a large container delivered to your job site immediately, our team is here to help offer suggestions and provide the ideal rental for your particular timeframe and budget.

Our industry-standard containers are built to haul a range of construction and roofing waste including lumber, drywall, shingles, nails, plastic, piping, and more.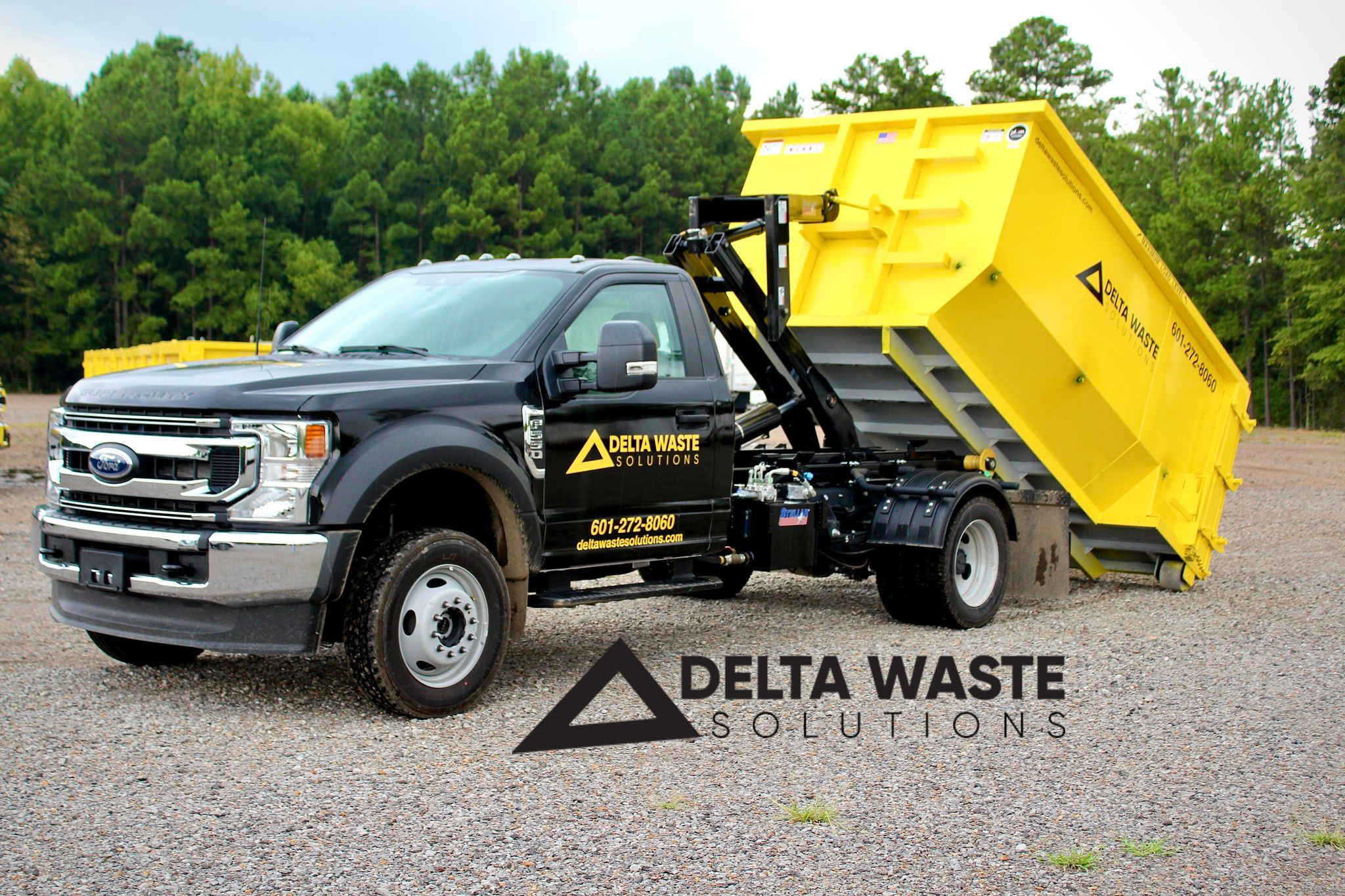 We offer three convenient size ranges to handle the small garage demolitions to the large-scale commercial developments. Browse our selections for a construction dumpster Brandon MS contractors depend on and book your rental with a few simple clicks. We make it easy to schedule our services directly from your job site, so reach out by giving us a call or browse our website for more information!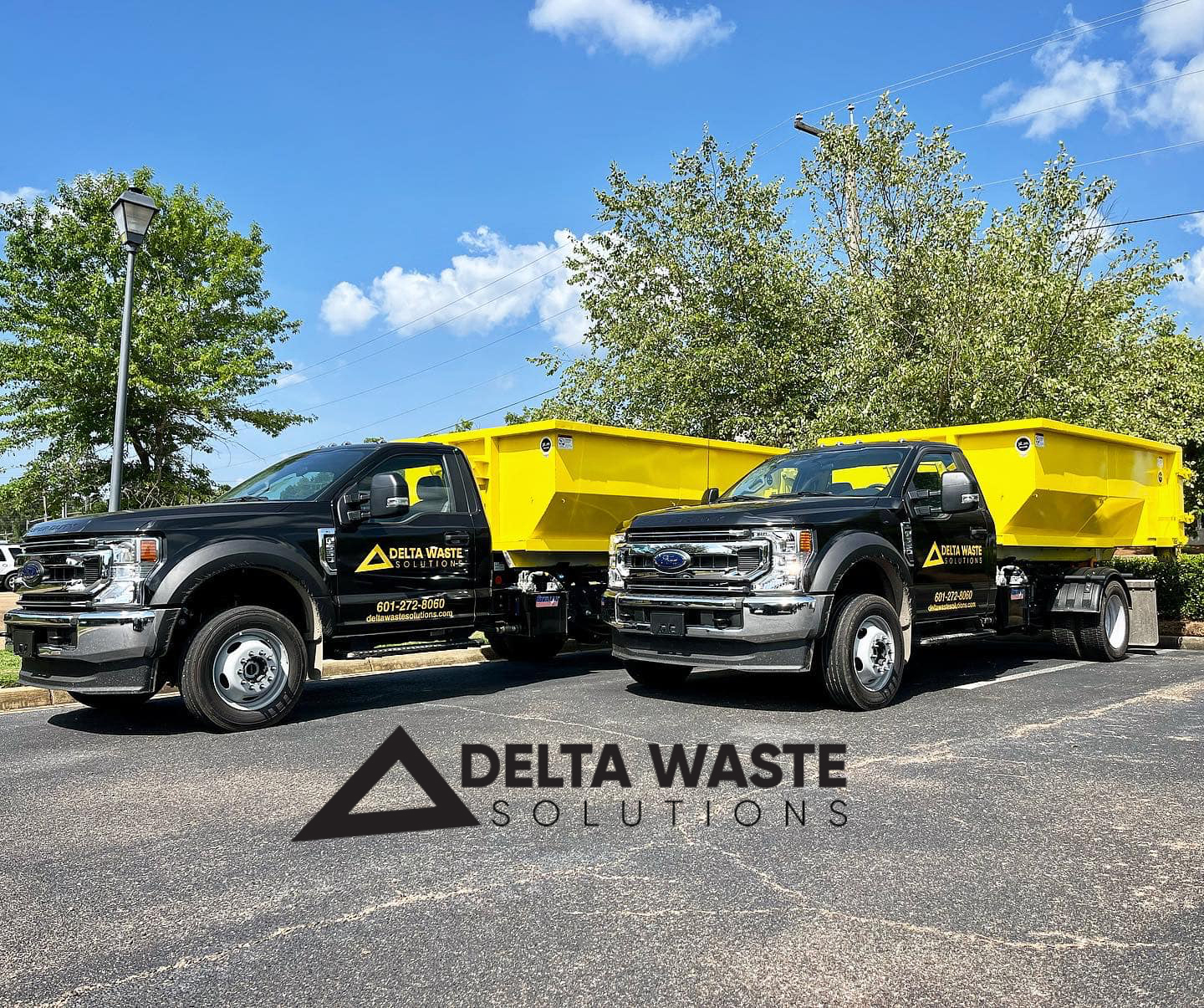 Reliable Residential Dumpster Rental in Brandon MS
Use the dumpster rental in Brandon MS homeowners trust for all of their renovation, remodeling, and repair projects! Whether you're beginning an exciting DIY kitchen remodel project or need added waste disposal support for a garage cleanout, we're confident our selection of durable containers and dependable service will help you complete the task in no time. You don't have to fret about managing several trips back and forth to the landfill or tearing up your vehicle with bulky waste when you use our heavy-duty containers to handle the heavy lifting for you.

Home and property owners frequently rent out our containers for a range of projects including attic, basement, or garage cleanouts, estate sale preparation, landscaping, roofing repairs, single-room remodels, furniture or appliance removal, tearing out carpet, tile, or flooring, detached garage, shed, or driveway demolition, and so much more.
Increase the curb appeal of your home by redesigning your landscaping or by building a new addition to your house with the support of our easy-to-load bins. We'll deliver the #1 roll way dumpster rental Brandon MS has to offer at the time and location of your choosing so that you can fill it at your own pace. Once the bin is full, give our team a call and we'll get it out of your hair in no time. Don't fret the mess, give our team a call or book online today!
Commercial Dumpster Rental Services Brandon MS Business Owners Trust
With the help of our dumpster rental services Brandon MS business owners and commercial managers rely on year-round, you'll be well on your way to disposing of waste in a timely and cost-effective manner in no time. Whether you manage the daily operation of a bank or are overseeing a foreclosure, we offer a range of solutions to meet your short or long-term commercial needs. As a small locally owned business, we understand the importance of providing reasonably-priced and dependable services that support the day-to-day functions of any industry. Use our team of knowledgeable and courteous container experts to help meet the needs of your business and keep your operations running smoothly.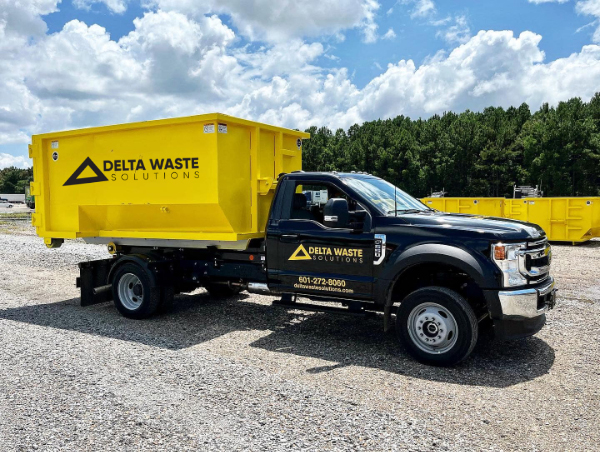 We regularly work with hotels, apartment complexes, banks, restaurants, factories, warehouses, office parks, retail shops, residential living facilities, daycare centers, and other commercial entities to provide reliable and affordable waste management options with Brandon dumpster options. Browse our size selections by clicking the yellow "Book Now" button and rent a container online today!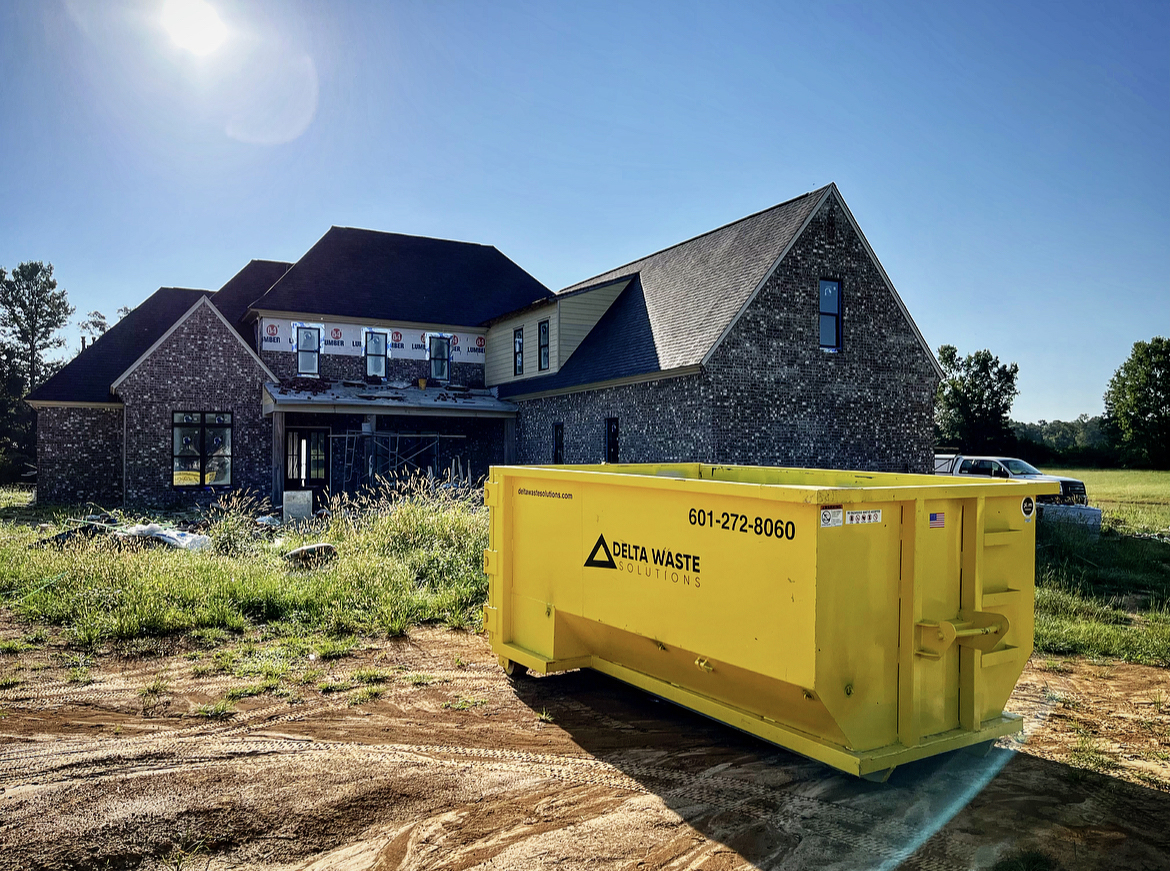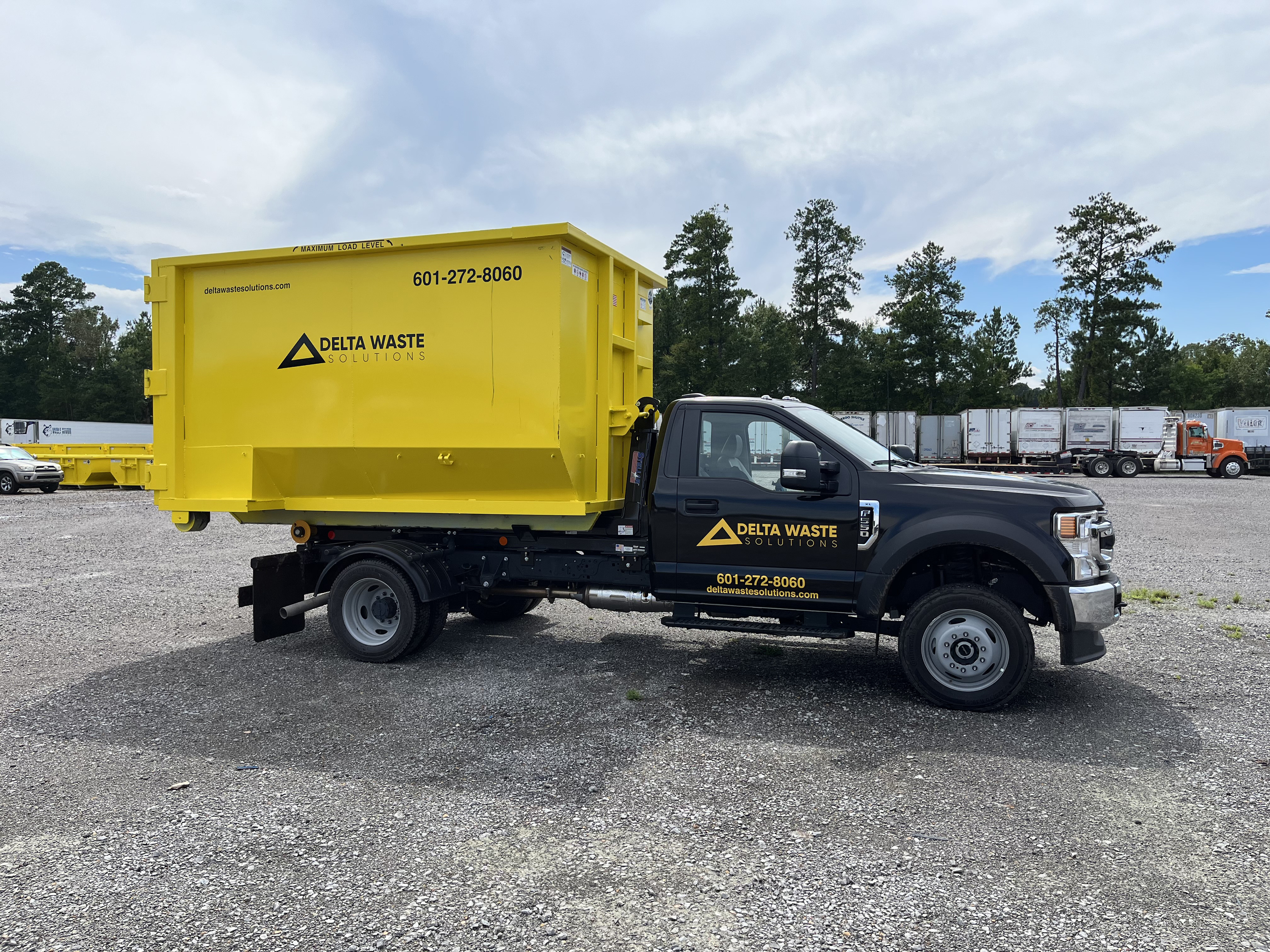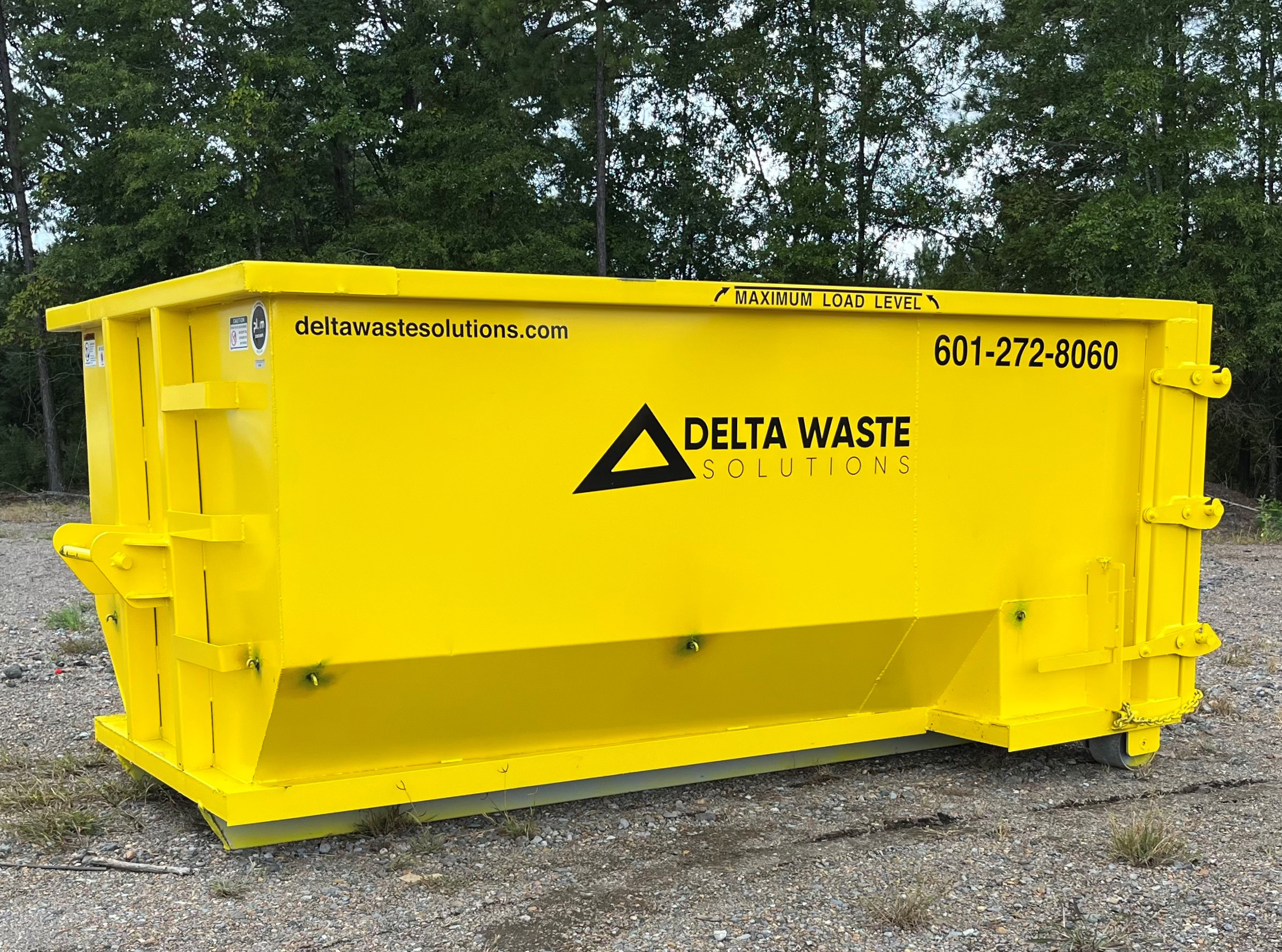 How to Book Our Brandon, MS Dumpster Rental Online Today!
When you're ready to take the next step and book an affordable and reliable Brandon, MS dumpster rental, we make the process as streamlined and simple as possible, saving you time and effort simultaneously. We offer two convenient options for reserving the perfect container with our team: Give us a call at (601) 272-8060 or use our online system to browse our selections and book your container with a few simple clicks.

If using the scheduling tool through our website, follow the steps below:

1. From any page of our website, click the yellow "Book Now" button in the upper right corner.
2. Browse the selection of size options listed on this page. View details including dimension, price point, rental period, and the amount of tonnage included. Once you've decided on the best Brandon, MS dumpster rental for your particular project needs, click the yellow "Book Now" button to the right of the price point.
3. Click the yellow "Add to Cart" button, select your service type (residential or commercial), and select your desired drop-off and pick-up dates using the calendar tool.
4. Input your contact and delivery information, then sign the digital contract.
5. Input payment information using any major credit card and complete check out with our secure system.

With a few easy clicks, you can book a dumpster rental near Brandon MS in a matter of minutes! We understand if you would prefer to speak directly with one of our team members to schedule your rental, so don't hesitate to give us a call at (601) 272-8060 to work directly with our friendly staff and get on the books today.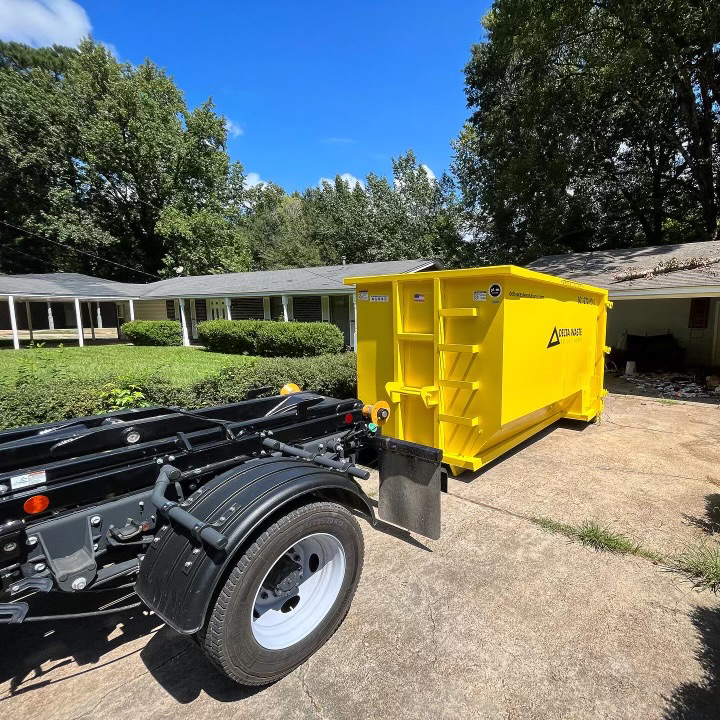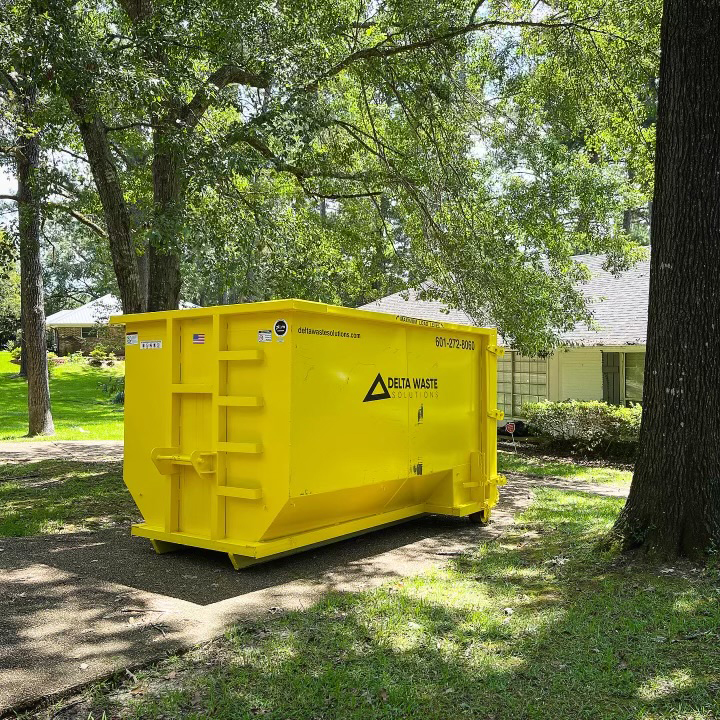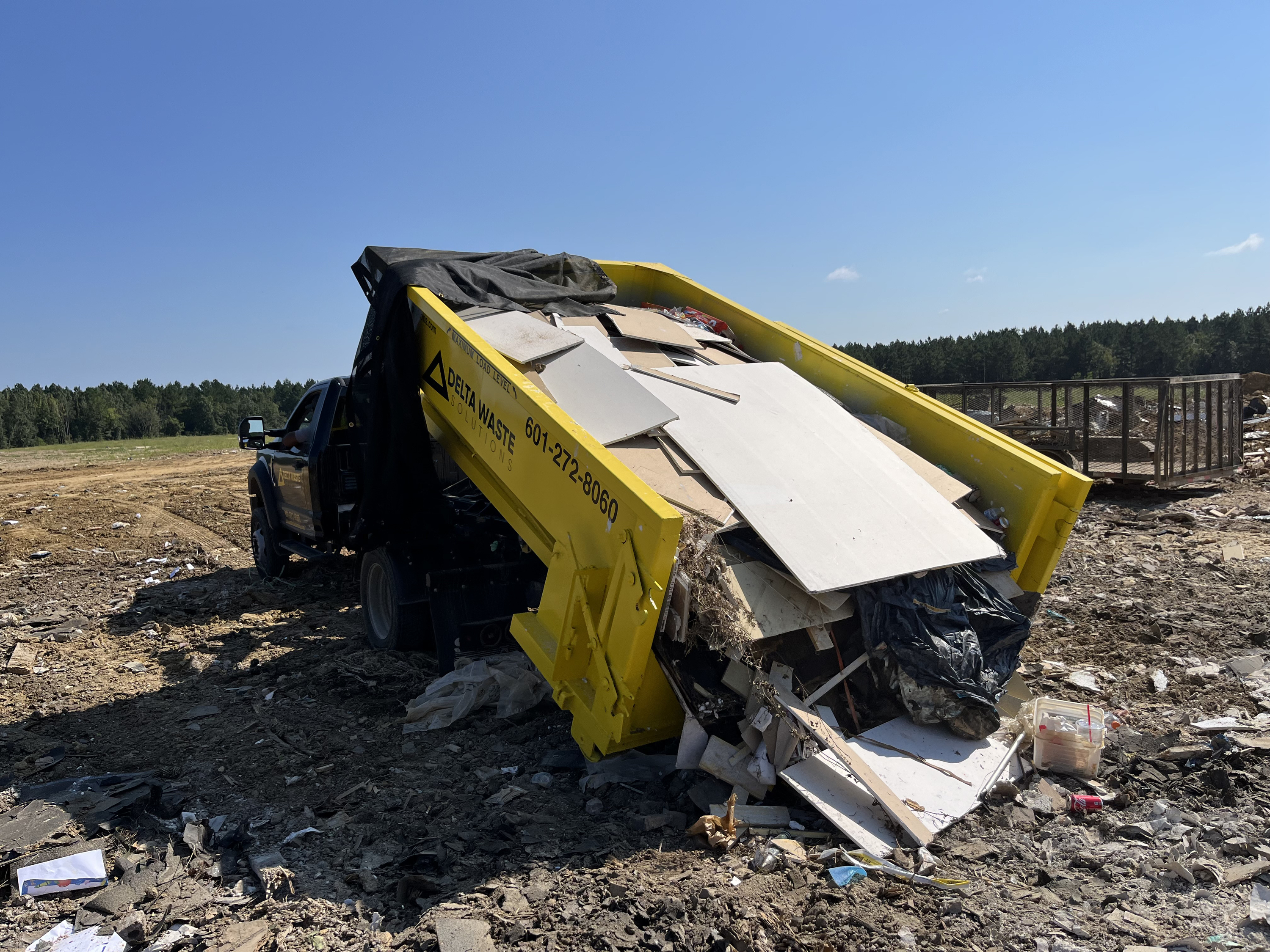 Convenient Brandon MS Dumpster Rental Sizes and Prices
We offer the best selection of Brandon MS dumpster rental sizes and prices to suit commercial and residential needs across Rankin County. Whether you're searching for a small container to help clean up the yard after a heavy storm or a larger commercial-grade bin to clean up a construction site, we offer selections that suit the needs of a range of projects, no matter the scale or scope. Take a look at our selections below and book your container online today!

10 Yard: Measuring 12' long by 7' wide by 3.3' high, our first container begins at $365 for up to seven days of rental time with two tons of weight included. This size is regularly rented out by home and property owners working on smaller cleanup projects, removing furniture and appliances, or bathroom remodels. If you've been searching for a 10 yard dumpster rental Brandon, MS can trust, this is a great option!

Many contractors search for a construction 10 yard dumpster rental Brandon, MS trusts to help get the job done, which is where our team comes into play. We've partnered with contractors and construction companies hundreds of times over the years and understand what it takes to keep a work site streamlined and on track, no matter the size or purpose of the project. Give us a call to discuss rates and delivery options for your job site today!

15 Yard: Measuring 12' long by 7' wide by 5' high, our 15 yard includes up to seven days of rental time and two tons of weight to be hauled away. This is a great size for homeowners working on removing tile or carpet, cleaning out a large garage, or renovating a laundry room. For contractors, this size easily manages shingles, lumber, drywall, and other waste for demolition and development projects. Beginning at $415, this size is an excellent option for a budget dumpster Brandon MS residents and contractors can use.

20 Yard: Measuring 12' long by 7' wide by 6.5' high, our largest size rents for up to seven days and includes two tons of weight beginning at $485. Frequently used by contractors and construction professionals, the 20 yard is the perfect Brandon MS dumpster rental for commercial roofing replacements, housing demolitions, and other large-scale projects. Home and property owners utilize this size for hauling away large bulky furniture, single-room renovations, and full housing cleanouts.

Additional time and tonnage are available for purchase if you end up collecting more waste to haul or need more days than originally anticipated. Whatever your needs are for dumpster disposal Brandon MS residents and contractors use, we're confident we have the best size to suit your project needs. Book line today!
Uncovering the Iconic Landmarks and Natural Beauty of Brandon, MS
Here at Delta Waste Solutions, we're not only committed to providing top-notch dumpster rental services, but we're also enthusiastic about celebrating the richness of our local communities. Today, we're turning the spotlight onto Brandon, Mississippi, and exploring the city's beautiful landmarks and natural attractions.

One significant landmark that makes Brandon special is the historic Rankin County Courthouse, an epitome of Southern architecture and heritage. Another spot worth mentioning is the Brandon Amphitheater, a state-of-the-art entertainment venue that hosts some of the most thrilling performances.

Nature enthusiasts will fall in love with the beauty of Brandon. The picturesque Shiloh Park is an ideal spot for a day out, offering a variety of recreational opportunities from sports fields to serene walking trails. Then there's the Ross Barnett Reservoir, a local gem where you can enjoy boating, fishing, or simply soak in the tranquil scenery.


Savor the Flavors - Celebrating Local Restaurants in Brandon, MS
At Delta Waste Solutions, we take great pride in supporting local businesses and are excited to share some of Brandon's outstanding locally-owned restaurants. After all, exploring a city isn't complete without experiencing its culinary delights.

El Sombrero is a must-visit for anyone craving a hearty Mexican meal. Their enchiladas and margaritas have a reputation of their own! Then, we have Georgia Blue, a family-friendly restaurant known for its delectable Southern cuisine. It's a wonderful spot to dine and make memories with loved ones.

For a sophisticated dining experience, check out Heart & Soul Diner. It combines classic diner staples with a modern twist, making every bite a delight. Supporting local businesses enriches our community and helps keep Brandon's unique spirit alive.


The Power of Education - Spotlight on Brandon's School Districts
Our work at Delta Waste Solutions is deeply rooted in our communities, and we recognize the importance of education in shaping these communities. Brandon, MS, is home to the Rankin County School District, known for its dedication to academic excellence and robust extracurricular programs.

This district encompasses several highly regarded schools, such as Brandon High School and Brandon Elementary School, both renowned for their strong educational foundations and supportive learning environments.

Private educational institutions also have a strong presence in Brandon. Institutions like Hartfield Academy and East Rankin Academy offer excellent educational opportunities. Our city's schools, educators, and students represent the bright future of Brandon.

In a nutshell, Brandon, MS is a city with a rich history, a tantalizing culinary scene, a commitment to education, and an unmatchable love for nature. At Delta Waste Solutions, we're more than just a service provider - we're part of your community, and we're proud to serve you. Keep an eye out for more local highlights from your trusted partner in waste solutions.
Brandon Dumpster Rental FAQs
We make booking a Brandon dumpster rental a smooth and streamlined process, but we understand if you need additional information before scheduling your rental, so we've compiled a convenient list of frequently asked questions for you to browse through. Take a look at a selection of our FAQs below and get in touch with our team if you need more details before reserving your container today!
Q.
How much does it cost to rent a container?
A.
Our container rental prices vary based on the size of the bin, rental period, and the amount of tonnage being hauled away. We're confident we have selections that will perfectly suit most residential or commercial budgets and timeframes. Our 10 yard dumpster begins at $365 for up to seven days of rental with two tons included. We understand many customers might be searching for a cheap dumpster rental Brandon MS offers, but along with affordable rates, we prioritize excellent customer service, a range of sizing options, and on-time, expert delivery for your convenience. Our dumpsters are industry-leading designs built with efficiency and safety in mind to help you get the job done right the first time!
Q.
What can be hauled away in the bin?
A.
Our containers are built to haul away a range of general waste and debris including yard, construction, furniture, trash, and e-waste. We cannot accept hazardous or flammable liquids including gasoline, oil, asbestos, medical waste, liquid paints, or lacquers. If you have any questions about if the waste you need hauled away falls in the hazardous category, feel free to give our team a call to discuss your Jackson dumpster rental options.

Q.
How do I reserve a rental?
A.
When creating our website, we had customer ease and usability in mind, so we offer two convenient options for scheduling a rental with our team: give us a call at (601) 272-8060 or use our online scheduling tool! Click the yellow "Book Now" button to rent a dumpster in Brandon MS with a few easy clicks. We offer a range of size options and will carefully deliver the container at your requested location at the date and time of your choosing. You can book a rental anytime anywhere with your smartphone and our user-friendly website!
Delivering Options for a Roll Off Dumpster Brandon, MS Can Count On
We're happy to offer our selections for the best
roll off dumpster Brandon, MS
has to offer across Rankin County including the 39042 and 39043 zip codes. We also offer delivery to Clinton, Jackson,
Pearl
, Flowood, Madison, Ridgeland, and surrounding areas. If you don't see your city or zip code listed, feel free to give our team a call to see if we can accommodate your project at (601) 272-8060.
We're proud to offer reliable, affordable, and accessible rental services to support our community's efforts to keep our cities waste-free and enjoyable places to live, work, shop, and visit. Many of us were born and raised in Brandon and our goal is to continue to offer solutions to waste management needs that allow residents and individuals to manage the waste in a cost-effective and convenient manner. We regularly partner with small businesses, residents, contractors, restaurants, office parks, churches, and Rankin County School District to provide a
dumpster rental Brandon, MS
can utilize for a variety of waste removal projects.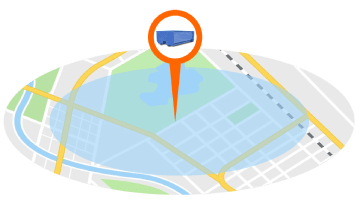 Whether you're interested in learning more about our services or are on the hunt for a roll off dumpster Brandon, MS counts on to be delivered ASAP, our professional and helpful team is here to support your waste disposal needs. Browse our website to view our inventory and book your rental or give us a call to speak directly with our staff today! Let us handle the heavy lifting so you can focus on the task at hand.
View Service Area